Last weekend, I attended the opening for a show of new work by Judy Onofrio, part of a two-woman exhibition Accumulation, New Work, Monica Rudquist and Judy Onofrio at St. Catherine University Gallery, Saint Paul, Minnesota on display through March 30, 2019.
I became acquainted with Judy's work through her jaw-dropping 1993 solo show entitled "Judyland" in the Minneapolis Institute of Art's Minnesota Artist Exhibition Program galleries. Judy adapted the environment she had created in her home and backyard in Rochester, Minnesota, transforming the galleries into a sparkling, joyful place. The show was so popular, it was held over for several weeks. Her work was intriguing and I asked if I could visit to photograph her gardens - and our friendship began. By chance, the period captured in my photos 1995-2004 turned out to be a critical time in her career.
Here are my photographs of Judy's gardens accompanied by images of her sculptural work created during that period and the contemporaneous remarks of art curators, historians, writers and friends who have followed Judy's work for years and write affectionately about it – and by Judy's own words.
Judyland - Garden of Grit & Glamour
Photographs: Judyland July 16, 1995 - Summer
Laurel Reuter, Director, North Dakota Museum of Art, Grand Forks:
"Judy Onofrio is an artist of uncommon spirit, one who seems to live on the edge of the primordial garden, the facsimile of which exists outside her studio window, spread across the hillside, overrun, luxuriant, home to frogs and snakes and raccoons, to arches and pillars and graves for family pets. She calls it Judyland. The gardener is her beloved husband, Burton. Their long and fruitful marriage surmounts modern statistics and hazards. Judy, the magician artist, twines the family, the gardens, and the home into a living work of art – and all the while, she toils away in her studio, with her own hands making something from seemingly nothing.
A series of private outdoor rooms connected by meandering paths form the structure of Judyland. One enters through a "Welcome" archway, its columns adorned with bowling balls. As the garden spreads up the hillside, paths turn into steps cast of concrete and inlaid with tiles, ball point pens, marbles, horse shoes, and so on. Different artist friends have created works for specific sites.
Certain motifs reappear throughout Judyland. Among them is a collection of bowling balls that float in the air on mounts fabricated from lamp bases and truck springs, or on upside down trees whose upward reaching roots cradle the balls. Onofrio's cast concrete columns embedded with mosaic visually dominate the garden.
Judyland goes on and on offering up to the visitor an endless succession of the weird and wonderful: whirligigs, a statue of David, John Riese's large quirky birds of logs and welded materials, collections of rocks, odd parts of clay sculptures left over from Onofrio's years as a ceramist; and a profusion of flowers over the banks of the hillside. Judyland is an informal work in progress."
Robert Silberman, Curator, Historian and Critic:
"Onofrio identified with her great-aunt Trude who painted on trays and furniture and had a garden filled with wonders. Onofrio had always loved the visionaries who created large-scale, often madcap works from Simon Rodia's Watts Towers in Los Angeles to Howard Finster's Paradise Garden in Georgia to Gaudi's Parque Guell in Barcelona with its magnificent undulating benches covered with china bits and pieces.
She sought out Midwestern examples, such as the Grotto of the Blessed Virgin in Dickeyville, Wisconsin a fantastic display of assemblage. Over time, on the hillside behind the house on a quiet street that she shares with her husband, Burt (a retired neurosurgeon from the Mayo Clinic), Onofrio has created her own version, Judyland, a continuing work in progress. It combines grottoes, sculptural pieces and other delights featuring a dizzying range of materials from barn-roof ventilator covers to tractor seats, from horseshoes to glass telephone insulators.
The decisive moment for Onofrio's art came in 1989 when she found herself flat on her back after surgery. She started making brooches, collage pieces that included elements such as the charms she had been collecting as far back as junior high school. The brooches led to small shrines, where the brooches could be shown to advantage, and then things… got bigger. Before she knew it, Onofrio had fashioned a full-scale installation entitled Judyland, like the hillside garden, and first presented at the Minneapolis Institute of Arts in 1993.
When Onofrio realized that she had found a way to bring her collecting and her love of naïve and visionary art into her own work, she knew that she had arrived: "I was really excited – I felt like I was in Aunt Trude's garden."
Photographs: Judyland October 12, 1996 - Fall
Judy Onofrio:
"I am a self-taught artist. Throughout my life, my artistic interests have ranged from the formal to the naïve to the outrageous. In childhood, my role model was my great-aunt Trude, a lovable and eccentric outsider artist who worked beyond the confines of the mainstream art world. Aunt Trude followed a personal vision that drove her to make art until she died at the age of 90. It was her influence that launched my lifetime search for grottoes, visionary environments, and contemporary artists whose personal visions clearly stand apart.
The joy I derive from making art complements my love for collecting an odd assortment of curios that provoke strong memories. I have a lifelong obsession with frequenting garage sales, flea markets, and auctions within a hundred-mile radius. This has led to a stockpile of materials for my work: buttons, glass jewels, beads, vintage jewelry, shells, glass fruits, mirrors, ceramic tiles, and many figurative objects.
My process of working is additive. I start with a narrative often based on events that happen in my everyday life. I carve people, birds, fish, dogs, carrots, flowers – a whole world from basswood. Often, I use a vintage found object as a model, changing its proportion or meaning as I carve a version of it. These objects, with their rich trove of memory images, reference the passage of time and its effect on what we remember. Aside from the extravagance of color, surface ornamentation, and my ever-present sense of humor, each work tells a story of utopian wishes and dreams, a saga of seduction, duality and temptation.
Although I've been acquiring objects, images and ideas all my life, it seems only recently has everything – my art, environment and life – come together and merged into a wonderful oneness."
Laurel Reuter: "Underpinning the artist's personal story acted out within the setting of the circus (in the exhibition Come One, Come All) is her search for physical health and mobility. Having struggled with lupus much of her adult life, her health issues were compounded by a near-fatal care accident in 2000. The artist became mostly wheel-chair bound for the next few years – and she dreamed of the circus. But she never stopped working in her studio. " I thought about balance, about acrobats flying through the air in total freedom. I imagined Madame Twisto (2002) a circus woman with her legs twisted together like a Dairy Queen." In Onofrio's sculpture she is transformed into a glamorous woman, ensconced under an arch reminiscent of Bernini's canopy for the papal altar in St. Peter's Basilica in Rome. Four equally gorgeous miniature women hold court at her feet. According to the artist, "Madame Twisto is a sideshow as well as a portrait of my own physical vulnerability. The circus became a metaphor for my healing."
Ring of Fire (2000) evolved as a work about balance. According to the artist, "This monument is a sideshow under the Big Top and is, in fact, the most difficult trick of all. The balancing act between a woman and a seal is one of the hardest acts to perform. Defying both fear and danger; the woman balances on top of the seal, trusting her safety to the animal." As in Madame Twisto, the pair are supported by four standing women who mirror the balancing woman. Like a chorus, they provide the foundation, setting the stage for freedom, danger, trust, glamour, and seduction."
Photographs: Judyland April 26, 2004 -Spring
Hattie Bremseth, Owner, Hattie's Antiques and Junque, Grand Meadow, Minnesota:
"Until I met Judy, my work, as I considered it, was being dealer and collector of antiques and junk gathered from all sources – including flea markets, auctions, and private homes – and placing it in my shops. Golly, little did I know that the stuff I sold her by the ton was soon to be the makings of Art. When she invited me to the Judyland show at the Minneapolis Institute of Arts, I said, "I won't know anyone there." Judy egged me on, I bought a pink suit, and when I showed up at the opening, I knew a lot of people. All those whom Judy had brought to my shop for years made me feel like I owned an art-supply house, not an antiques and junk shop. When Judy showed me her recent show catalog, it was so much fun – I studied every picture to try to identify all the materials I remembered."
Sherry Leedy, Director, Sherry Leedy Contemporary Art, Kansas City, Missouri:
"I first met Judy Onofrio over twenty years ago at the University of Northern Iowa where she had just given a talk and slide show. I knew immediately that this was a woman I wanted to know. From that initial meeting, we've gone on to create a personal friendship that has survived a myriad of life's difficult and joyous situations, often simultaneously. What I felt initially has since proved true: Judy Onofrio is an artist and person of originality and integrity, generosity and commitment, grit and glamour.
My gallery in Kansas City had shown her sculpture for the past 20 years. (In 2005), Judy and I worked together to organize and curate a traveling exhibition that spans the last decade. Entitled "Come One, Come All"… the show puts into context the monumental work… and illuminates the gradual transformation from the density and complexity of the sculpture of the 1990s to the clarity and elegance of the most recent work. As always, Judy's sculpture seduces viewers to come closer. And when they do, the reward is always greater."
Patricia McDonnell, Chief Curator, Tacoma Art Museum, Tacoma, Washington:
"Onofrio's art celebrates strong women, defiant actions, underdogs, odd ducklings, even misfits who exude a proud braggadocio. It also, wisely, imparts a resonant humanity and acknowledges human vulnerability and foibles – the delicate balance of personal relationships, precariousness of good health, whimsy of good fortune, inevitable human blunders and faux pas."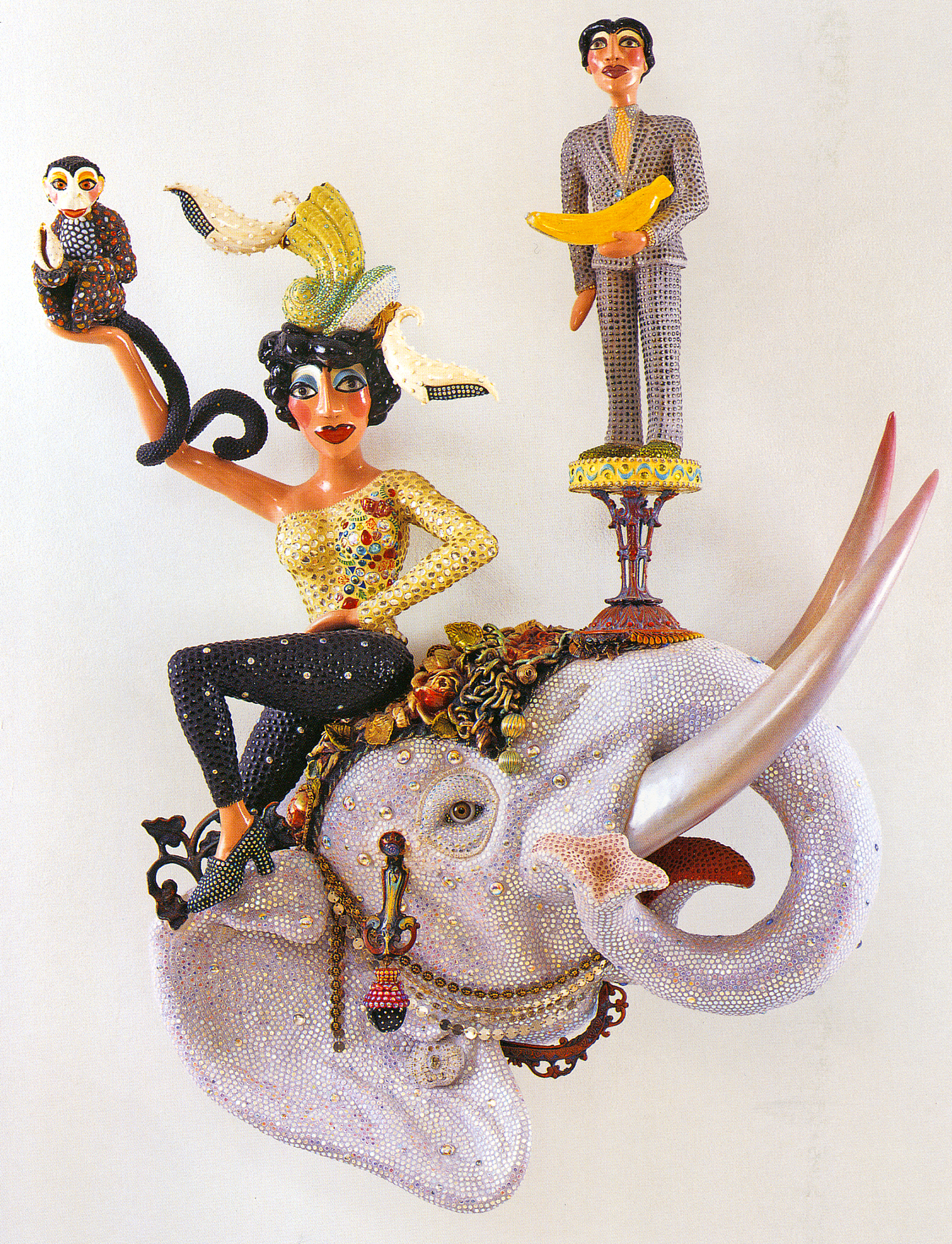 All work above from the monograph Come One, Come All. Photos: Gus Gustafson.
I consider myself extremely lucky. Every day, I have the opportunity to construct a world of memory, humor, and stories through my work in the studio. Best of all, I live in that world and invite others in. There is nothing I would rather do and no place than I would rather be. My life and art are best when on a continuous roll, including everything I desire – love, happiness, good friends, success and working concrete mixer. – Judy Onofrio
Fifteen years have passed since I visited to photograph Judyland on that spring day in 2004 when the sculptures stood in the bright sunlight against a field of blooming Mertensia virginiana (Virginia bluebells) carpeting the hillside.
In 2008, Judy found a new direction. She began to collect bleached animal bones, assembling them into elaborate organic sculptural works. Many of the overall shapes and forms are familiar from the garden experiments and her previous work, but this monochromatic work has a gravity very different from the playful, colorful earlier pieces. No less complex and obsessive in execution, figuration and narrative have been left behind in works that are more subjective, and open to interpretation by the viewer. I find them somber, elegant and very moving.
Judy presented this body of work in a major retrospective exhibition at the Rochester Art Center, Rochester, Minnesota in 2016 entitled "Unearth." The show featured more than 80 works, presented on two floors and in four galleries.
Megan Johnston, Executive Director, Rochester Art Center:
"Since the 1980s, bones have occupied space in her studio and her psyche. As early as 2008, Onofrio began to integrate bone and teeth into her sculpture, focusing on it as a material. By 2009, Onofrio's work contained bone and flowers – an interesting and complicated combination. Still symbolic, fruit and other objects found their way into the self-referential work. But the sculptures eventually became quietly monochromatic.
This new work emphasized Onofrio's life-long interest in form and materiality. Unearth is an exhibition about the spiritual idea of digging, finding, uncovering, and revealing the beauty of both life and death through earth and bone. Onofrio's work embodies a transcendence of spirit. The sculptures seem to float between worlds – both physically and spiritually."
Garth Johnson, Essayist:
"In the modern Western world, we have come to consider death as a boundary. In many other cultures it is not – it is conceived simply has a transition, and a dialogue between the living and dead forms a meaningful part of social discourse.
The use of bone as a material in her [Onofrio's] work coincides with a struggle with cancer. [She says] "In this work, I'm talking about mortality. I'm talking about the celebration of life – two very opposite things."
The bones become a metaphor for memory. As an artist who has always balanced intellect and intuition, she knew that both as objects and metaphors, bones held a special power. In recognition of the bones' primal power, she purged every element that detracted from that power. Colors became more muted and gradually fell away. Beads and found objects disappeared, too. Scale, ambition and Onofrio's fierce attention to form and materiality remained… She allows the bones to speak for themselves, improvising relationships and building structures.
Her bone sculptures in particular can be linked to Victorian mourning culture, with its emphasis on objects linked to the deceased. From the 1870s onward, it was thought that memories could migrate from the mind and attach themselves to objects. It was believed that objects hold memories, passing them from one person to another… Morbid associations are swept away as the viewer is caught up in the artist's own curiosity.
Traditional views of material hold that material is inert, and is only activated through human agency. An understanding of materiality leads us to understand that material can have a life of its own, call for collaboration with an artist. Onofrio's process gives agency to materials. In the studio, she begins with an object, slowly and methodically adding others until a tension, or vibration emerges. Her studio is filled with many pieces that take months – even years to complete. While audacious large-scale works that require elaborate planning take shape, smaller improvisational pieces fill in the gaps."
The current exhibition at St. Catherine's University Gallery features a roomful of monochromatic, ivory-hued bleached-bone works that seem to glow from within. It is a beautiful installation with wall pieces, assemblages displayed on transparent Plexiglas cubes that make them appear to hover in mid-air, and a large, grounded vase-shaped work holding center stage. Illumination highlights the organic, sensual qualities of the bones and shadows play on the floor and walls.
Janet Koplos: "Bones… are another material with symbolic overtones. Onofrio assembles them into non-body forms… a vast shift to greater abstraction and more explicit identity. With her use of bones, which began in 2008, Onofrio strikingly abandoned the intense color of the figurative pieces, although pale, atmospheric color remains. Bones make systems of organization in nature, and in her works they are both architectural and ornamental. They can also evoke looking into a microscope, seeing teeming elements yet finding order… Onofrio's work recognizes the fragmented nature of the world whirling chaotically around us and to pull it into resolved and reassuring forms."
Sources
Judy Onofrio, 2005 McKnight Distinguished Artist, McKnight Foundation, Minneapolis (monograph). Judy Tells All; the artist's own words and testimonials by peers and friends including Hattie Bremseth.
Koplos, Janet. Resolved and Reassuring Forms in a Chaotic World. Essay accompanying current exhibition Accumulation, New Work by Monica Rudquist and Judy Onofrio, February 9 – March 30, 2019, St. Catherine University Gallery, Saint Paul, Minnesota.
Leedy, Sherry. "Notes of a Co-Conspirator." Judy Onofrio, 2005 McKnight Distinguished Artist, McKnight Foundation, Minneapolis (monograph) and Introduction in Judy Onofrio, Come One, Come All. Daum Museum of Contemporary Art, Sedalia, Missouri, 2005.
Reuter, Laurel. Judyland, The Art of Judy Onofrio. North Dakota Museum of Art, Grand Forks, North Dakota, 1993. (Catalog for exhibition that also visited the Minneapolis Institute of Arts and the Laumeier Sculpture Park and Museum, Saint Louis, Missouri, 1993-1995.)
Reuter, Laurel. Judy Onofrio, Come One, Come All. Daum Museum of Contemporary Art, Sedalia, Missouri, 2005. Essay "In Pursuit of Joy: The Art of Judy Onofrio." (Catalog for exhibition that also traveled to the Arkansas Art Center and the Rochester Art Center, 2005-2006.)
Silberman, Robert. Minneapolis: Judy Onofrio at the MIA. Art in America, April 1994.
Silberman, Robert. The Stuff of Art, Judy Onofrio. American Craft, June/July 1996. Vol. 56/ No.3, pp. 40-43, 64.
Unearth | Judy Onofrio. The Rochester Art Center, Rochester, Minnesota. 2016. Catalog of solo exhibition with foreward and essay "Materiality, Texture and Form: A Lived Practice in the Work of Judy Onofrio" by Megan Johnston and essay "Unearthing Materiality and Meaning in the Work of Judy Onofrio" by Garth Johnson.
In 2018, Minnesota Public Television's MN Original series followed Judy on a hunt for bones in a video Judy Onofrio Sculptor