First in a series about landscapes that I've photographed around the world, this inaugural Travel Log highlights some of my favorite sculptural forms and design elements in James Corner Field Operations's projects: The High Line (2009) in New York City; Tongva Park (2013) Santa Monica, California; and Nicollet (2017) Minneapolis, Minnesota.
James Corner Field Operations Coast to Coast: New York, Minneapolis, Santa Monica
For the past several years, I've authored a website and blog (www.nicolletmallart.org) about the public art on Nicollet Mall, downtown Minneapolis's main commercial street. Originally designed in the 1960s by renown landscape architect Lawrence Halprin, Nicollet recently has been re-imagined by James Corner Field Operations (JCFO) with local firms Coen + Partners, Snow Krelich Architects and SEH Inc. JCFO was asked to integrate new and returning public art into the re-design; the largest collection in the city outside of the Minneapolis Sculpture Garden at the Walker Art Center.
I've followed the work of JCFO since their wildly successful design for New York City's High Line park completed in 2009. JCFO teamed with Diller Scofidio + Renfro and horticulturalist Piet Oudolf for the project. Since, they've been tapped to work on a number of parks and linear spaces. The design for Nicollet bears similarities to the High Line – it's a linear space (a streetscape, in this case) now transformed with landmark resting and gathering areas, interactive elements, innovative lighting and abundant plantings. But it's uniquely different from the High Line and JCFOs other work.
JCFO's Sculptural Placemaking
The High Line, New York City (2009) visited and photographed 2010
JCFO's design for the High Line established their aesthetic. The character of the park is defined by plantings that maintain the random wildness of the elevated rail corridor's previous abandoned state, and seating and paving forms that seem to emerge from the rail line's past. But what's really brilliant to me is how JCFO anticipated new models of sociability and designed spaces to accommodate new activities. Or maybe those spaces were just flexible enough that they enabled those activities to emerge.
A sequence of spatial rooms unfolds along the length of the High Line. Exquisitely detailed seating, railings and paving distinguish each space. The park extends through the Chelsea gallery district and in 2015, the new Whitney Museum of American Art designed by Renzo Piano opened there. Permanent public art is not prevalent, but The Friends of the High Line sponsor a robust schedule of temporary installations, performances and video screenings.
Tongva Park, Santa Monica, California (2013) visited and photographed 2014
Across the street from City Hall and less that a half-mile from the beach, Tongva Park bears the name of the area's indigenous people. Curving paths navigate an undulating hilly terrain that alludes to an arroyo. Plantings are also a highlight of this park. Garden Hill, a botanical garden designed by Robert Perry, an expert in California native plants, and John Greenlee who specializes in grass ecology and sustainable design appears exotic to my Midwestern eyes. Plants were blooming profusely when I visited in May.
Discovery Hill, opposite a row of new multi-family housing, has a children's playground. Gathering Hill features an amphitheater and lawn and the only work of public art - Weather Field No. 1 by Inigo Manglano-Ovalle. A gigantic beloved fig tree known as "Morty" (seen at the beginning of the panoramic "plants" video below) was preserved on site.
The signature of the park, to me, are the two pavilions on Observation Hill that tower over Ocean Avenue and frame views of the Pacific Ocean. The woven, womb-like steel forms create transparent enclosures and are re-played in yellow painted steel as climbing structures in the children's area.
The point of looking for beauty and something fresh in design isn't just a concern with the form or an aesthetic response but is more in terms of how it reconditions and recalibrates your experience and what you're doing - James Corner.
Quote from "Santa Monica Spoke, James Corner's Tongva Park Gives the People Much of What They Wanted for a Revived Downtown," Mimi Zeiger, February 2014, Landscape Architecture, pp. 107-125.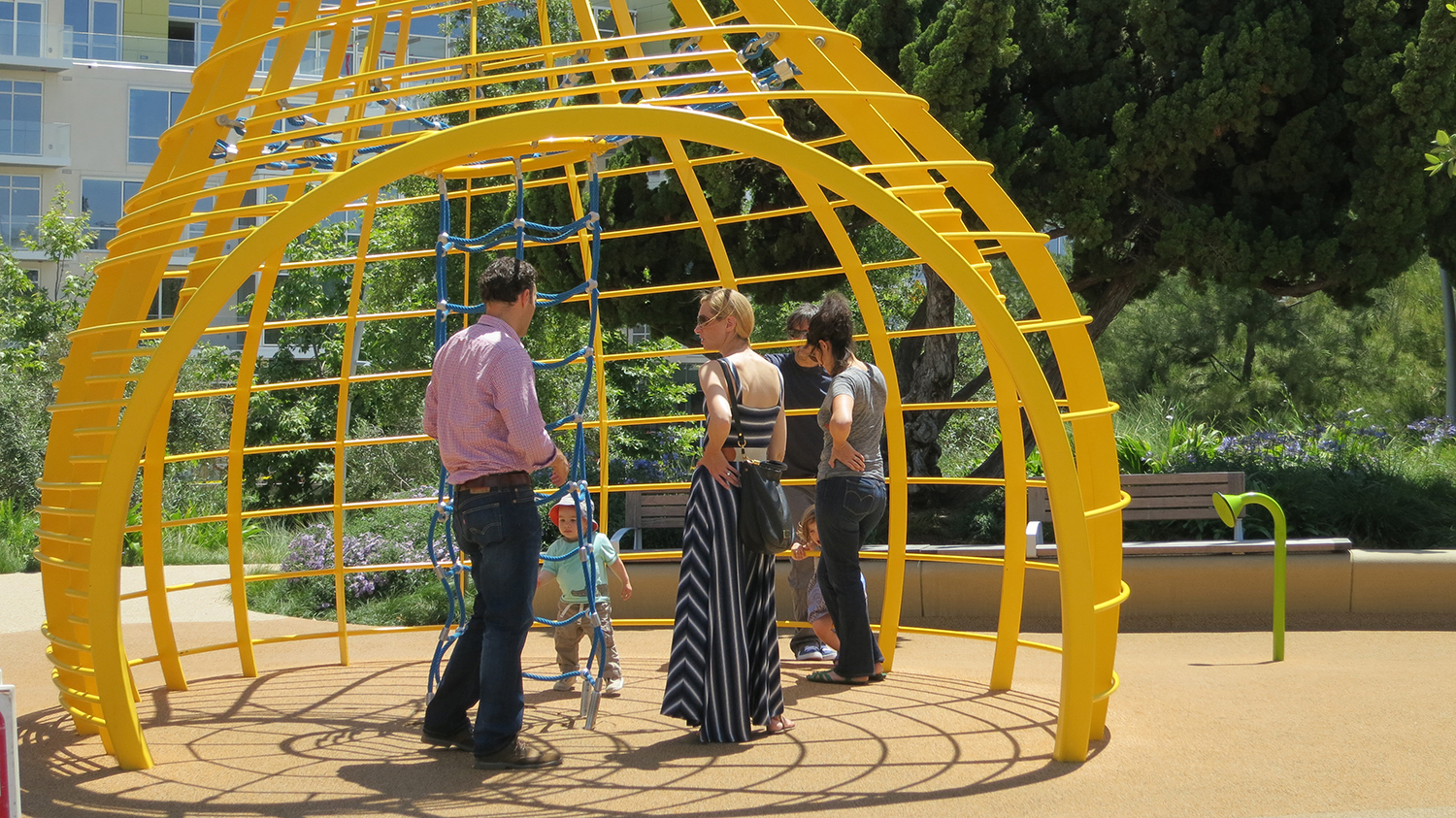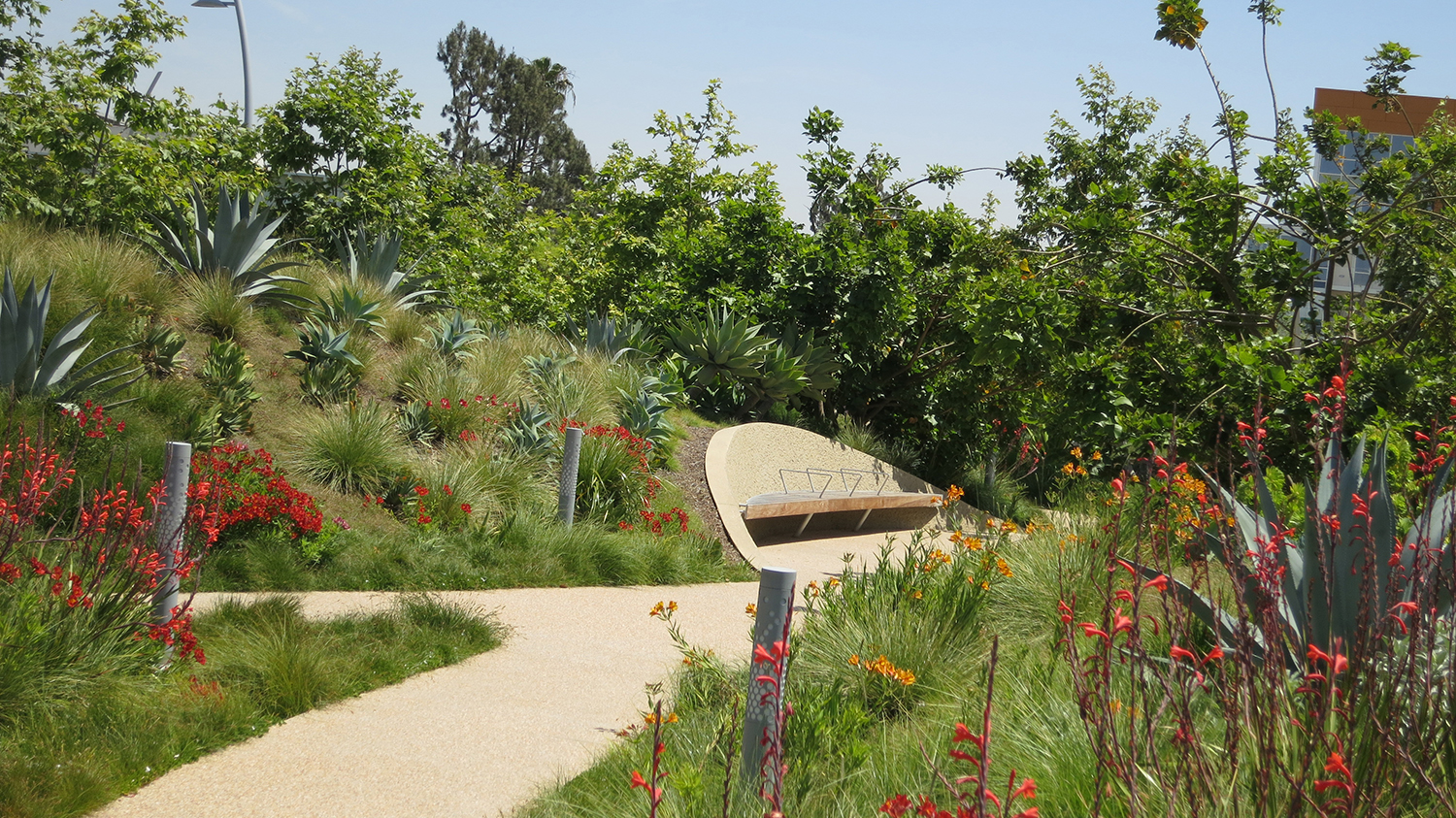 Two videos give you a sense of the twining path system, undulating terrain and lush plantings in Tongva Park featuring native drought-tolerant plants.
Nicollet, Minneapolis, Minnesota (2017) visited and photographed 2017 and 2018
The big gamble (and hope) was that JCFO's re-design of Nicollet would renew focus upon the street that was lost with the introduction of the Minneapolis skyway system in the 1960s; boost real estate; and rekindle enthusiasm for experiencing downtown. The renaissance has begun with The Dayton Project that's re-imagining a beloved historic fifteen-story department store into offices for the 21st century with a curated selection of the retailers and restaurateurs on the ground floor and a lively street presence (Gensler & Associates, opening 2019).
The civic purpose of the redesign of Nicollet driven by the economics of city-building appears achievable. But meeting another civic purpose may prove illusive - enticing people back downtown by offering unique, genuine and engaging experiences. What is Nicollet like for those us who live, work or visit? The physical design of the space is the armature for that experience, so let's take a walk down Nicollet from the north to south ends and explore some of the aspects of JCFO's design.
Nicollet Center features JCFO's Light Walk across the street from Nicollet Lanterns by Blessing Hancock. The works illustrated in JCFO's preliminary renderings (above) bear a marked resemblance to the real things pictured below. The Light Walk, an interactive sculptural work of reflections and programmed LED lighting, is equally engaging day and night.
Nicollet Lanterns by Blessing Hancock across the street from the Light Walk during Northern Spark, June 2018 (above). Poems by four local writers created especially for the lanterns include several that honor Prince including one by R. Vincent Moniz, Jr. (NuEta) below.
Seating options include iconic moveable Nicollet chairs as well as handsome fixed-in-place curving wood seat walls. I observed smokers, people eating carry-out lunches, checking their phones, or just resting, and that many of the moveable chairs were dragged in proximity to the bus shelters which have limited seating.
JCFO retains the curved roadway from Lawrence Halprin's original 1960s design for Nicollet. Wide pedestrian terraces support cafe culture within the South Groves section. Bicycles and buses are allowed on Nicollet, but not automobiles.
Jack Nelson's meticulously restored perpetual motion Sculpture Clock (1968) is the only element remaining from Halprin's original design for Nicollet. Halprin invited Nelson to participate - a very early example of an artist-designer collaboration before the existence of many public art programs.
JCFO's re-design of Nicollet met functional needs quite different from The High Line and Tongva Park which are both rather pastoral spaces. Constraints included dealing with a space defined by the roadway width and building frontages, and the skyway system's controlled access to the street. Working with artists and integrating nine public artworks and several existing side-plazas were also necessary. JCFO's solution creates a linear space with a variety of visual and experiential events along its length - from the resting and gathering places in MIssissippi Woods, Theater in the Round, Target Plaza and Loring Woods to the colorful moveable chairs throughout, and the special event space of the Light Walk.
Strolling and rolling pedestrians will appreciate the low curbs and tabled intersections and in the evenings, unobtrusive lighting bathes the street and dynamic programmed LEDs in the Light Walk add a jazzy touch.
The signature of JCFO on Nicollet isn't iconic sculptural forms like the seating and paving of the High Line or the pavilions at Tongva Park. The possible stand-out elements on Nicollet might be the Light Walk, or the Theater in the Round when it's completed. But I perceive the new Nicollet is an old-fashioned sort of promenade with interesting human-scaled diversions and landmarks along the way that are carefully detailed and integrated into the overall design - an ensemble composition that enables a variety of soloists to take their turn.
Also visit:
James Corner Field Operations - Projects
Star Tribune: Streetscapes, A New Nicollet Mall, Rick Nelson.